Sweden's largest and best e-commerce platform
We deliver complete e-commerce solutions to thousands of online shopkeepers. Textalk Webshop has integrations to the industry's major payment solutions, accounting software, logistics- and business systems. Focus on your passion and we'll take care of the rest. Build your webshop now. Pay when you're ready to launch.
Start Your Webshop
Textalk is quick to answer the chat when you need help, textalk webshop can be integrated to most economics programs and there are many features for the online store.
avjord.se
Fantastic platform! Customer service is incredibly helpful and you always get a nice deal =)
tltrading.se
Has already acquired three stores from my friends. Good bang for the buck !! Sincerely Peter René - www.madeinkitchen.se
madeinkitchen.se
I'm very pleased with my webshop at Textalk, they are easy to edit, design and change products. Their support is also quick and nice, helpful.
johannasrockabilly.se
I think it's so sweet that you have a heart-icon at the link for customer service. It says a lot about what good and enjoyable attitude you have to your customers. Always the best and friendliest service.
Kerstin // Webbpresenten Sverige AB
Therefore you should choose Textalk Webshop
We are Sweden's largest, most experienced and most affordable e-commerce platform. We collaborate with all payment solutions, logistics services and business systems available on the Scandinavian market.
Largest, experienced & long term
Since 1999, thousands of online shopkeepers in Sweden have chosen us as their e-commerce supplier. We have devoted ourselves to digital business for decades. We are constantly developing our platform and are here to stay.
The Best support!
We will help you with everything in e-commerce and web in a jargon free language. Your questions, big and small, are our most important job. Mail, call or chat. And follow us on social media.
Bang for the buck
Here you will find a complete e-commerce solution for a couple of hundred Swedish krona a month. You can even start completely free. In addition, we also have a good deal for you with our partners.
Start Your Webshop
Complete webshop with hundreds of features
Sweden's most versatile admin tool for your webshop.
Support for all payment solutions
Klarna are included at no extra charge.
Reliable Hosting
Textalk Webshop is run on our own state-of-the-art hosting and data centers in Sweden. We are of course GDPR-compatible. Your data is in safe hands.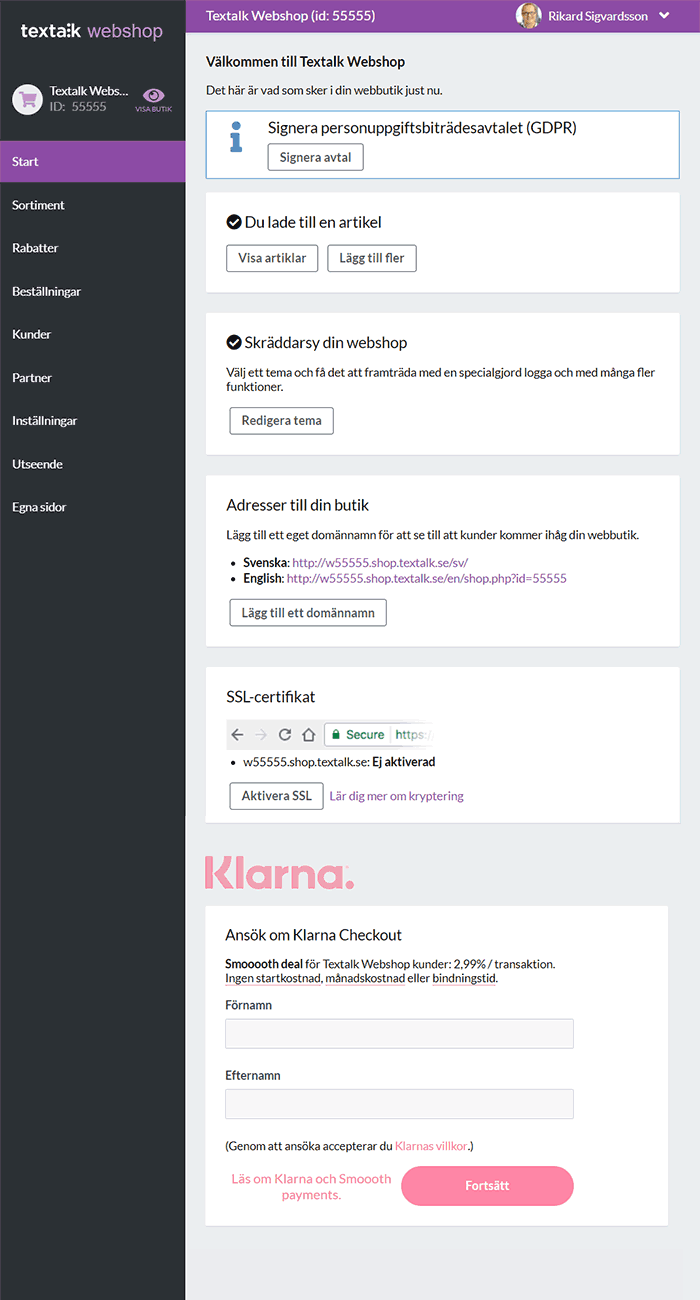 Accounting, Logistics and Administration
Textalk Webshop has complete integrations to all established business systems and accounting programs.
Sell all over the world
Textalk Webshop supports multiple languages and currencies in order for you to sell worldwide.
MultiShop - several webshop with the same backend
Sell in multiple online stores from the same admin system.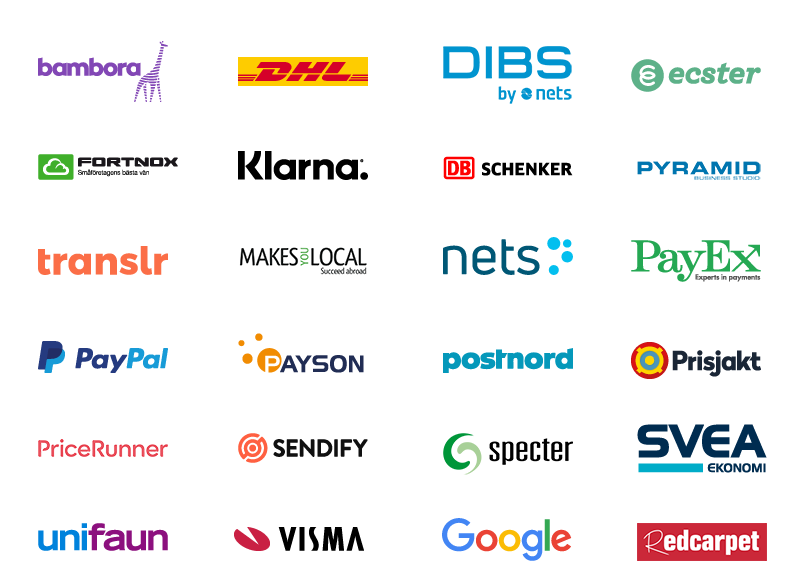 Dreams are not expensive
Everyone should be able to run professional e-commerce. Therefore, a complete e-commerce solution at Textalk doesn't cost a fortune. Support in Swedish, Norwegian, Danish, Icelandic and English.


Basic
from* 290 SEK /mn
Unlimited number of items
Optional payment solutions
Integration to business- and logistics systems
Sell across the world in several languages and with different currencies
Start Your Webshop


Plus
från* 490 SEK/mn
Everything from Textalk Webshop Basic
Customer club
Discount codes
Gift Cards
Support for Multishop
Start Your Webshop
*) Upon subscription of 12 month period. VAT is added.